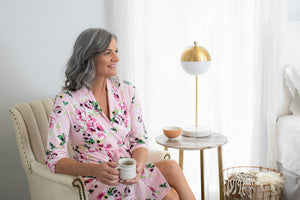 Shop our recovery apparel with drain pockets
Recover In Style
Whether having a full mastectomy, lumpectomy, reconstructive surgery, or removal surgery, you need some adaptive clothing for recovery and to manage your surgical drains. Great for mommy makeovers and breast augmentations. Designed for dignity and made for comfort.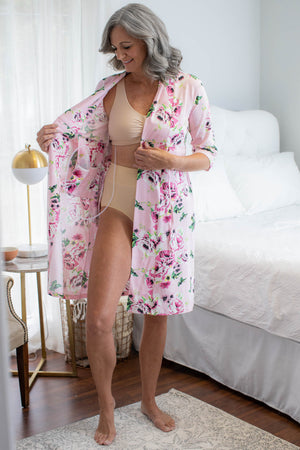 Recovery Wear
Heal in Comfort
Luxuriously soft cotton knit recovery pajams, robes, and surgical gowns. Include internal pockets for easier post-surgical drain management.
Shop All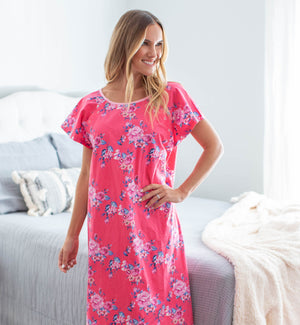 Bring Comfort
Hospital Gowns
Hospital provided gowns are simply awful – you are in a totally new environment and have no option than to wear this old oversized gown given to you.
Shop All
★★★★★

Perfect Gown for Recovery!

Great for recovery post surgery, doesn't require much effort and movement to get on and off. Helped with storing my drains post TT and BA

Angie
★★★★★

Highly Recommend!

This gown is comfortable & stylish enough that I wore it home from the hospital. The pockets are perfect for four drains which I needed and the velcro closures are easy & secure. I highly recommend this garment to make life easier post surgery.

Dona Kae
★★★★★

So Cozy!

Best gown for after surgery! Soft material. Love the Velcro closures for easy getting into and out of during healing.

Leonne Hardt
★★★★★

Thoughtful & Practical Design!

I wore these all day/night and would swap out each AM with a fresh one post-mastectomy & reconstruction. They had 4 pockets and snaps for JP drains to keep the tubing from wandering. Thank you SO much for the thoughtful and practical design!

Edie
★★★★★

Mommy Makeover Must-Have!

Fit so well. Love the inner pockets for the drains. The velcro closures were amazing for my post op visits didn't have to worry about pulling clothes over me while in pain. Super cute floral print makes you feel nice & feminine even when your not feeling your best!

Cathy

Los Angeles, CA
As Seen In...